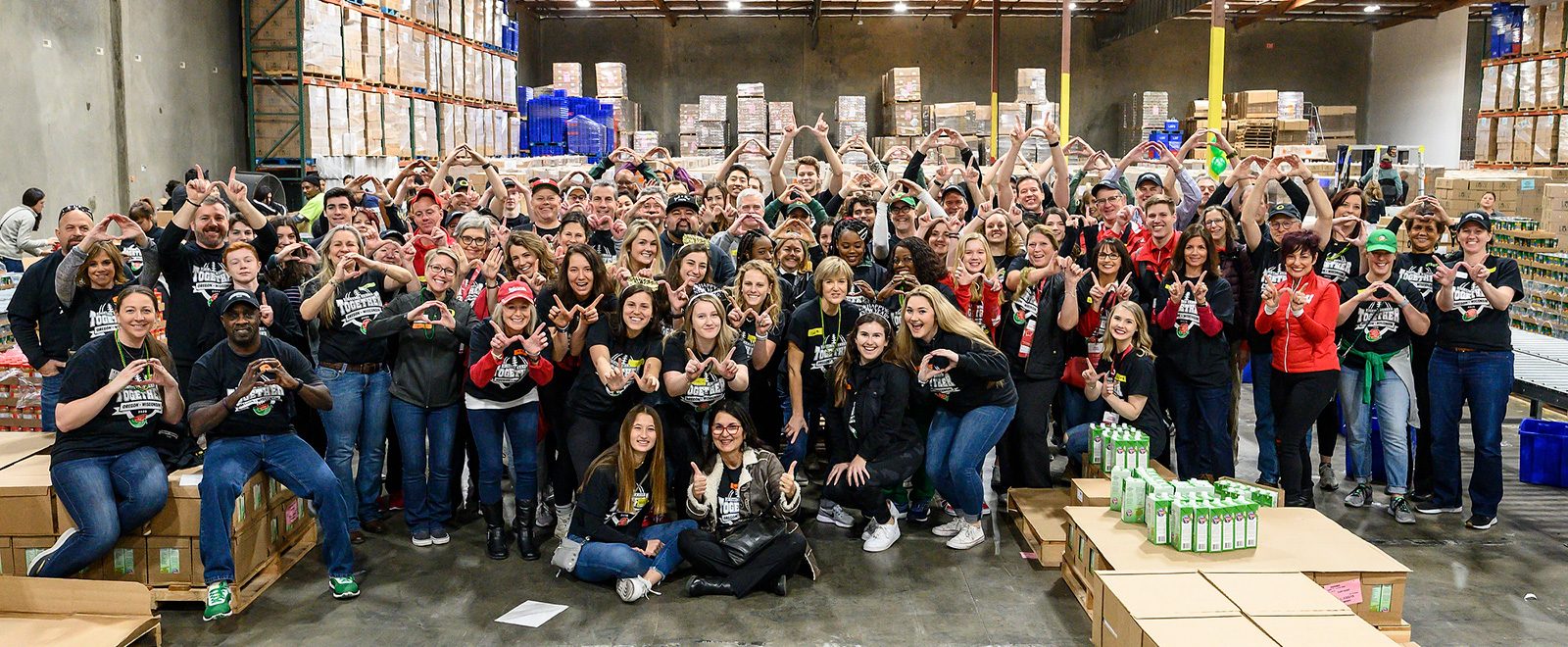 Different
Teams,
Same
Fight
Students and fans representing UW–Madison and the University of Oregon teamed up at a Los Angeles food bank, packaging food for 2,240 seniors in need.
"We're going to be rooting for different teams tomorrow, but today we're going to fight hunger together." And so they did, Ducks and Badgers, volunteering as one to package enough food Tuesday morning to feed 2,240 seniors in need in the Los Angeles area.
UW–Madison dean of students Christina Olstad delivered that opening charge at a Los Angeles Regional Food Bank warehouse, where more than 100 students, staff and fans in town for the Rose Bowl Game gathered in the sport of service.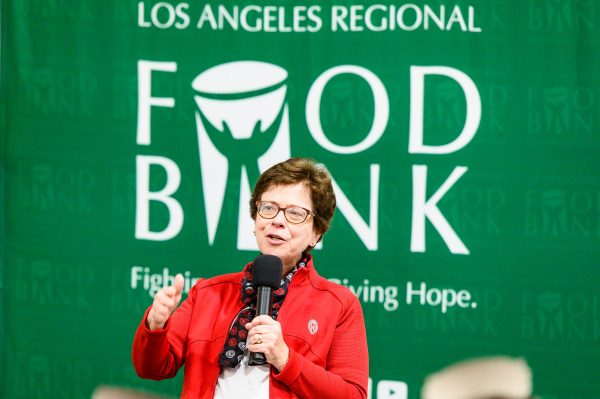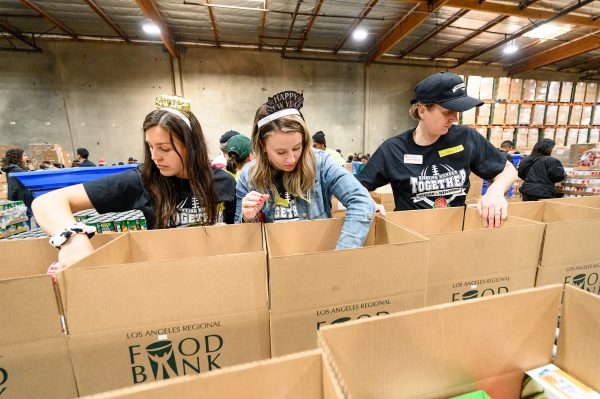 "We try to embody the Wisconsin Idea – that you learn through action, not just in classes," said UW senior Hannah Baker, who traveled a half hour to the Commerce, Calif., facility with roommates Hannah Walker and Logan Klein.
The volunteers arrived in rivaling red and green but changed into matching "Fighting Hunger Together" shirts and hats. Symbolizing friendly competition, the marching bands from both schools greeted volunteers with alternating tunes and "Drumline" vibes. The event, organized by Oregon's Division of Student Life and the UW's Student Affairs, served as a natural extension of food insecurity initiatives on both campuses.
Once inside, the volunteers lined two conveyer belts and were assigned precise tasks. They unwrapped pallets of canned and boxed foods and assembled packages of spaghetti noodles, fruit, peanut butter, milk, pink salmon, soup and more.
The belts never paused during the 90 minutes. Facility workers marveled at the volunteers' efficiency while volunteers admired the workers' tricks of the trade. Ingrid Filakousky learned how to loosen plastic wrapping by dragging a can over the top of it. A 26-year-old accountant from Orange, Calif., she had no affiliation to either university but was inspired to volunteer after learning about the collaboration online. (She's now a fan of both schools, she said.)
Picking up the plastic wrapping and sorting out cardboard were five UW students running on adrenaline. They had arrived in Los Angeles at midnight that morning after a 30-hour road trip from Madison. "It's cool to put sports aside and come together for a common cause," said Molly Leyden, whose group drove through nine states on their way to serve.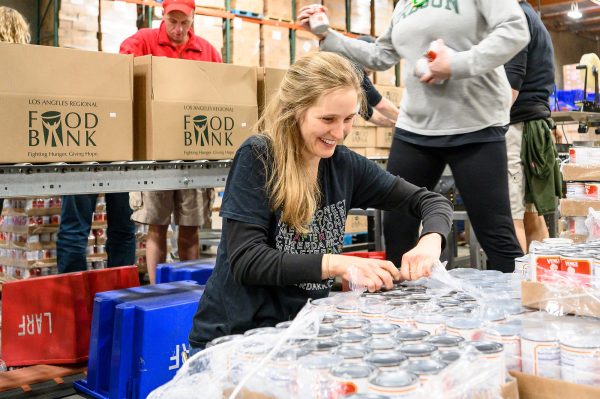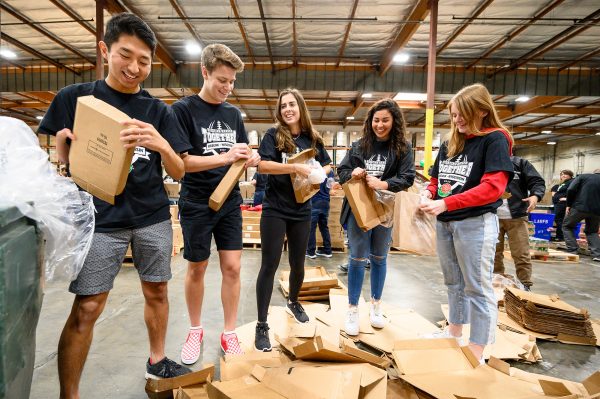 Music, smiles and laughs filled the warehouse and fueled the volunteers. "There are some Oregon guys on the other end of the factory that are dancing with their boxes of spaghetti, and we're doing a little dance off," said Walker, a UW senior who boxed vegetable soup.
Rumors that the group was approaching the facility's record for such a project provided even more inspiration. As empty boxes ran out and the conveyer belt came to a halt, a volunteer exclaimed: "I don't want to stop!"
"Me either," his neighbor replied. Together, today, they fought hunger.