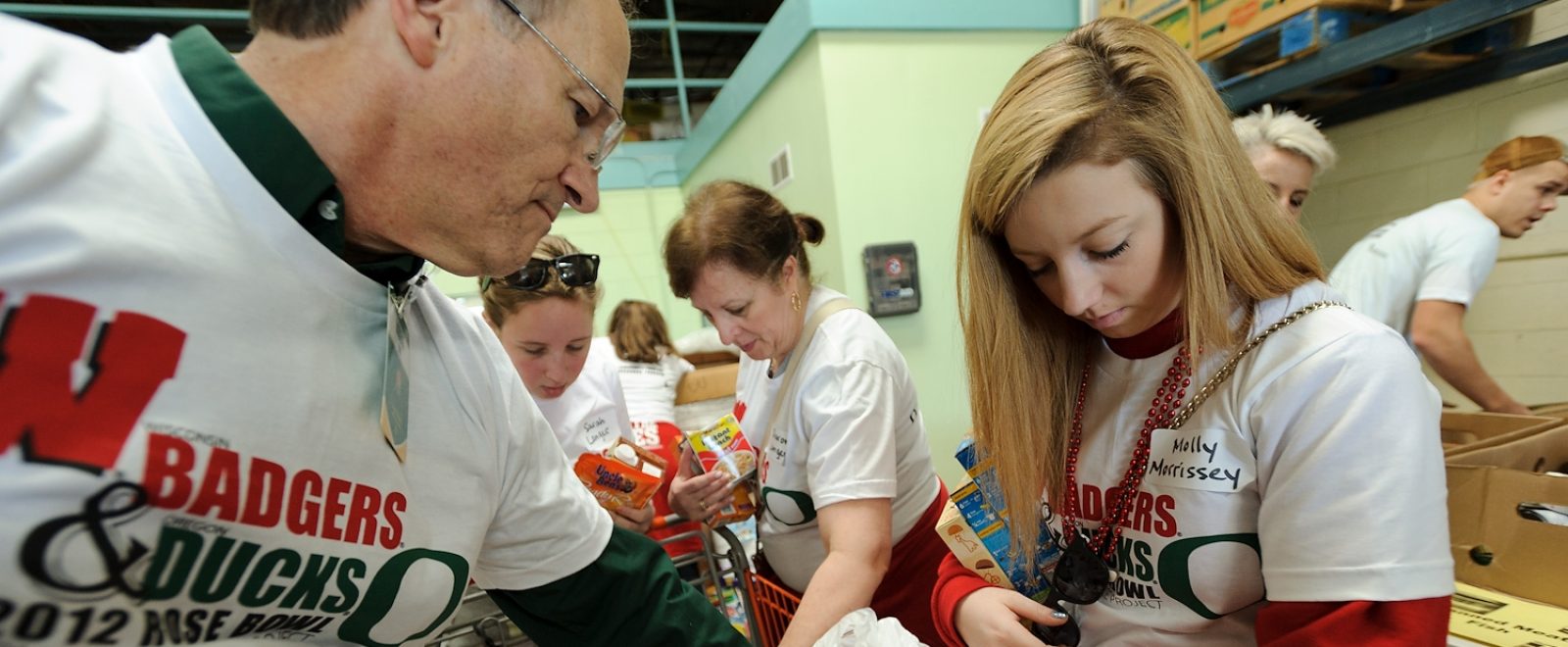 Badgers,
Ducks
come
together
to
serve
ahead
of
game
One hundred students and alumni of the University of Wisconsin–Madison and the University of Oregon will come together on Tuesday, Dec. 31, as part of a service project supporting senior nutrition in the Los Angeles community.
The event is part of the lead-up to the 106th Rose Bowl game between the Ducks and the Badgers on Jan. 1.
The service event will take place at the Los Angeles Regional Food Bank in Commerce, Calif. from 9 a.m. to 11 a.m.  Volunteers will help assemble food packages that go to seniors in the Los Angeles community.
All over the age of 14 are invited to participate.
"I love the idea that rivals on the football field can take time out to do good in the community that we're visiting," says Dean of Students Christina Olstad. "We'll have fun, meet new friends from Oregon and most of all, do something to help others."
This isn't the first time UW and UO paired up as part of a bowl trip. The sides last met at a food pantry in Van Nuys, Calif in 2012.
The event will include a visit from Chancellor Rebecca Blank and Oregon President Michael Schill, members of the Spirit Squad and UW Marching Band. Participants will receive a souvenir t-shirt and hat as a thank you.
Round trip bus transportation will be available to the service site from the JW Marriott Los Angeles L.A. Live Hotel (900 West Olympic Boulevard Los Angeles, California 90015).  The bus will depart the hotel at 8 a.m., returning at noon.
Those interested in participating should register online.  Please note that this opportunity is limited to 50 volunteers from each university. Registration will close on Monday, Dec. 23 or as soon as the event reaches 50 UW registrations.
Please contact Elizabeth Paice at (608) 263-3436 or epaice@wisc.edu with any questions or accommodation needs.